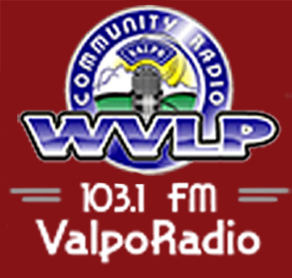 ART ON THE AIR
ART EVENTS CALENDAR
May 2019

Return to AOTA Show Archive
6/18/19
PORTER COUNTY
Coming once again this summer, is the annual WVLP HOG ROAST –
This community dinner is a chance to meet and greet your favorite show hosts, while enjoying a feast of pulled pork, veggies, sides,
and desserts with live acoustic music all while supporting your community radio station.
This family friendly event is on Friday, July 12th from 4 to 8 PM at the Butterfield Pavilion, located at Calumet and Evans right here in Valparaiso.
Tickets are only $20 and available at the station, from show hosts, and on the day of the Hog Roast – the best part kids under 12 eat free with a paying adult.
More importantly the proceeds from this event goes to support the on going mission of WVLP as your community radio station.
So why not plan to come out on Friday, July 12th to the WVLP Hog Roast for some food, fun, music, and good old fashion comradary – Hope to see you there.
Be there or Be Square - Contact me for tickets or available at the station, other hosts or on the day of the event.
Valparaiso University Center for the Arts Brauer Museum Corey Hagelberg: No Beauty in ThisNew Acquisitions Selections from the Permanent Collection and Paintings by Brabant Lenting
https://www.valpo.edu/brauer-museum-of-art/
The Village Gallery at Pines – Kathy Los-Rathburn Exhibit Featured at The Village Gallery May 19-Mid July "Regional Industrial Insights" at the Village Gallery on Sunday, May 19.
The works on exhibit "capture the complex beauty and nature of the region's industrial landscape".
Kathy will give a gallery talk at the The Village Gallery through July 11.
The Village Gallery 3303 Pines Village Circle Valparaiso, IN 46383

Chesterton Art Center 115 S. 4th St. Chesterton June Duneland Women's Club Exhibit opened Jun 2nd running thru June
New session of Monday Night Ceramics on July 1 from 5:30-8:30pm
Mark VanderVinne, Critique Night at the Chesterton Art Center on the first Wednesday of each month at 7:30. In June on the 26th
Dick Church will be offering a 6-week Beginning/Intermediate Watercolor Class Friday, May 31 from 10-12 $95
Sign-up for Chesterton Art Fair extended to July 15th Art Fair runs Aug 3 &4 and has nearly 100 vendor and over 3000 attendees
CAC looking for new instructors for summer and fall classes
(Summer Arts Camps)
Monday 1-2 p.m., Preschool 4-5 year-olds Monday 3:30-5 p.m., After School (Beginner) 5-8 year-olds
Tuesday 1-2 p.m., Preschool 3-4 year-olds Tuesday 3:30-5 p.m., After School (Intermediate) 6-9 year-olds
Wednesday 1-2:30 p.m., Homeschool 8-15 year-olds Wednesday 3:30-5 p.m., After School (Intermediate) 6-9 year-olds
Thursday 3:30-5 p.m., After School (Advanced) 8-12 year-olds Thursday 5:15-6:45 p.m., After School (Advanced Painting) 10-16 year-olds
Monday Night Ceramics on May 13 from 5:30-8:30 Call (219) 926-4711 chestertonart.com/ for more information

Art Barn 695 N 400 EAST, VALPARAISO ARTBARNINDIANA@GMAIL.COM artbarnschool.org/
The Art Barn 26th Annual Juried Art Exhibition from May18 through June 27, 2019 original art in painting, drawing, and
Art Z Fine ArtZ and AntiqueZ 206 South Calumet Rd. Ste.E, Chesterton, Indiana 46304 facebook.com/artZChestertonIN/
Acrylic Pour Class June 27 at 6pm create an acrylic pour piece on a large 16X20 canvas! Learn techniques and medium. Only $50! All tools, materials, and instruction included in price. Artist and licensed educator, Kerri Sulkowski will help you get creative! No experience or art ability needed! Light snacks and refreshments included! *Wear clothes for painting. Wine available for purchase before class at Flying Mermaids.Email at artZ. Cb@gmail.com Cost includes 2 hours of instruction, all materials, and light snacks and refreshments. 18 years and older only.

Duneland Photography Club "Two (Too) Big, Two (Too) Small," at the Red Cup Café in Chesterton.
20 photographers 62 pieces on display. The exhibit continues through the end of May. Red Cup Café is located at 115 Broadway in Chesterton facebook.com/dunelandphotoclub/

The Tony Stanzas June 29th 8-9pm at 4th Street Theater 125 N 4th in Chesterton
Jun 24-28 Improv for Kids 12noon facebook.com/events/459892668154435/ facebook.com/4thstreettheater/?tn-str=k*F
Depot Museum and Art Gallery The Depot - 525 Broadway US12, Beverly Shores
Llee Ligocki Contemplating 70 plus Year exhibit - her work is visually compelling. There is much to see and discuss in her work. Each piece tells a story and that story can be different to different viewers. She creates work that facilitates social dialogue. Opening Reception June 14 5-8pm Exhibit runs thru mid July
__________________________________________________________________________________________
LAPORTE COUNTY
The Thaddeus C. Gallery, located in downtown LaPorte at 822 Lincolnway. RUSH! Is their current exhibit.
Gallery hours are 10 a.m.-3 p.m. Tuesdays, Thursdays, Fridays and Saturdays. 219-326-8626 or www.thaddeusc.com and Thaddeus C Gallery on facebook
Dunes Summer Theatre- at 288 Shaday Oak Drive, Michiana Shoresis showing Smoke & Mirrors, a Fun Murder/Mystery June 14th, 15th at 7pm, 16th 2pm , and June 21st, 22nd 7pm , and 23rd 2pm .
Lubeznik Center for the Arts lubeznikcenter.org/ facebook.com/LubeznikCenterfortheArts/
new exhibit is"The Chicago Imagists: Before and After" opens June 17th through October 19th and is showing in all three galleries.
Southern Shore Art AssociationThe Gallery is located at 724 Franklin Street
Their new exhibit is "Collected Expressions" featuring an annual show with the Duneland Plein Air Painters. the exhibit runs through June 30th. The gallery is open Friday, Saturday and Sunday 12-5pm.Visit their website southernshoreartassociation.com or the facebook page Southern Shore Art Association
SFC Gallery Is at 607 Franklin Street and is showing the work of watercolor artist Mary Vihon.This exhibit runs through the end of the month. Their website is sfcgallery.com and on facebook sfc gallery.
Blink Contemporary Art at 1709 Franklin Street, Michigan City Artists Do Artists Have you ever wondered who inspires or influences artists? They have a large list of artists who will be exhibiting, this should be very interesting. Greg Hertzlieb is one of the artists. The show will run through July 28th. Blink can be reached at 773-206-0426 or on the web at Blink Contemporary Art.com on facebook Blink Contemporary Art.
Rising Phoenix Gallery at 2803 S. Franklin Street, Michigan City They are featuring new work by Neil Kienitz, Titled "Windswept". It opens On June 7th with a reception for the artist from 5-8pm, and runs through June 30th. Gallery hours: M-W-TH 10-4pm Sat 10-6pm & Sunday 11-4 Telephone # is 480-216- 2583 facebook page The Rising Phoenix Gallery
Nest located at 803 Franklin Street in Michigan City On exhibit in the gallery is the photography of Joel Brussell, titled "The Somewhere Else Of Being Here". The images were all taken within 4-5 blocks of where he lives, but have the appearance of being otherworldly. Photos are taken with an iphone 7. Ongoing in the nest: details on the nest Michigan city facebook event listings weekly on Mondays will be Oil Painting Plus with Michelle Wiser. Please sign up ahead. Drum Circle June 14th and Every 2nd Friday of the month at 6:30pm. Don Wenig of dancing feet yoga is the facilitator.
June 15th and Every 3rd Saturday of the month at 7pm we have The Every Kind Of Talent Show, with Captain Ambivalent as the master of cermonies. This is vaudeville, meets show and tell, meets open mic. We're always looking for magicians, dancers, opera singers, filmmakers, actors, comedians, poets, storytellers, solo or group musicians visual artists, demos. Sign up ahead to guarantee a spot. You can also sign up night of pending time and space.
June 22nd we have the Halo Moon Band and a CD release celebration for Jonathon Root "The Last Picture Show" free concert and a cash bar will be available
Friday July 19th at 7pm Nic Orbovich and the Chamber Musicians will be having a mini concert, more details soon.
July 13th the Michigan City Downtown District Merchants in the Uptown Arts District are holding
"The Soiree- An Evening on the Runway + Afterparty at the Friendship Botanic Gardens starting at 7pm. Tickets are $35.00 each. Sponsorships are available.Hoping to start a writers group (novice to published are welcome) send us a message if interested. Best way to reach us is email thenestmichigancity@gmail.com or facebook message.
__________________________________________________________________________________________
LAKE COUNTY
The 119th Street Artists the CornerStone Art Gallery located inside Centier Bank, 1500 - 119th Street, Whiting, Indiana.
Concepts & Compositions July 12th – Aug 3rd www.119StreetArtists.org. contact 119th Street Artists at info119sa@gmail.com or call or text Caitlin at 219.218.1058. Closing next two exhibits & Sep/Oct Sara Peak Convery
Studio 659 –Fandom – Opening Reception – May 19 Superheroes, cult classics, the under appreciated and inspired www.studio659.org) e-mail artscouncil659@gmail.com. 1413 119th Street in Whiting, IN. Thursday & Friday 12 – 7 pm and on Sat from 10 am – 2 pm. Studio 659.org

South Shore Arts www.southshoreartsonline.org Registration for Summer Classes – begin June 10th
26th Annual Beaux Arts Ball "Rock it, Man!" One Small Step for You, One Giant Leap for the Arts
I attended as VP of the Board for Lakeshore PBS that received an award for their long partnership making the program Eye On The Arts. LAKESHORE PBS will run an hour long EOTA special starting tonight June 14 at 8pm. Lakeshore PBS is back on the air at full power as of Wed night being off the air over 4 months - repairs costing nearly $400K and lost pledge donations over $360K. Family Arts Festival SUNDAY, JUNE 23, 10AM - 2PM Free: Music, magic, theater games, crafts, food Wizard hats/wands - some options for a fee.
Arts Table Talk June 20 at 5pm in the Bachman Gallery (CVPA) to discuss issue in the area arts – light refreshments available - RSVP to Donna Catalano 219 836-1839 email: donna@southshoreartsonline.org
Bachman Gallery- RENEE MCGINNIS: TALES FROM THE BIOSPHERE June 15 - August 25, 2019
Artist Reception: Sunday, June 23, 1-3pm South Shore Arts is pleased to present the seventh exhibit in its Outstanding Midwest Artist Series, Renee McGinnis: Tales from the Biosphere. McGinnis's works are painstakingly painted to perfection in her romantic but melancholy style, in which decaying structures of abandoned ships and eerie industrial factories are contrasted against vibrant flowers, enchanting clouds and shimmering emeralds.
Atrium Gallery- Celebrating Birds featuring Kimberly Beck, Kristina Knowski, Sue Gombus closes June 16, 2019
Towle Theater - 5202 Hohman Hammond will Wendy Wilken: Guarda La Miea Artes May 3- June 20, 2019
61: An Exhibit Celebrating the 61st National Park – Welcome Center I80/94 & Kennedy Av in Hammond through September 21st The exhibit will feature 12 trail stops: Miller Woods and the Paul H Douglas Center for Environmental Education, Hobart Prairie Grove and Little Calumet River, West Beach, Portage Lakefront & Riverwalk, Cowles Bog, Bailly Homestead / Chellberg Farm, Glenwood Dunes Trail, Century of Progress Homes, Indiana Dunes State Park, Dunewood Campground, Mount Baldy, and Pinhook Bog. There will be interactive exhibits for children along the trail, selfie stations and a large "sandbox" for building sandcastles.
Miller Beach Arts & Creative District – HAUNTS May 31–July 7, 2019 Marshall J. Gardner Center for the Arts, 540 S. Lake St., Gary, IN. An. Gallery hours are Thursdays and Fridays 12-6 p.m., Fridays and Saturdays 6-9 p.m. and Sundays 1-4 p.m. millerbeacharts.org or Miller Beach Arts & Creative District on Facebook
Meg Roman Phone: (773) 822-8086 Email: megromanmbacd@gmail.com millerbeacharts.org/
June 15- Comedy Fundraiser for Miller Beach Arts & Creative District 6-10pm $30 http://www.comedyintheregion.com/
June 20 – 3rd Thursdays - Live on Lake Street with The Nick Danger Trio $10

South Lake Artists Cooperative (SLAC) facebook.com/groups/SLAC1/ – Geometry May exhibit at Wild Rose Brewery in Griffith, and Texture at the Sip Coffee House in Crown Point Found only on Facebook Call For Art: China Cat Sunflower SIP Coffee House 2 in Highland TWO: then sending jpg images of each piece along with TITLE OF ARTWORK to SLACartists@gmail.com with "CCS" in the subject line by TUESDAY, JUNE 18TH, 2019 by or before 11:59pm).
Calumet College in Whiting is looking for full-time and part-time teachers in their Art Department. An Adjunct faculty in digital & studio arts and a full-time faculty/director of the digital & studio arts department.
CCSJ.EDU and I put a link in our Arts Events info at brech.com/aota - click the Arts events link and look under Lake County

"Between You and Eye" Jun 14- Aug 16 photography exhibit curated by Felix Maldonado and presented by the Hammond Development Corporation 5233 Hohman Ave Hammond, . It is an exhibit comprised of 9 area photographe
Billy Foster (www.billyfoster.com)
Itinerary:

June 2019
16th - at Region Ale with Andy Sutton and Frank Russell - Schererville, IN
21st, 22nd - with Henry Johnson Elkhart Jazz Festival - Elkhart, In
28th - with Henry Johnson at Winter's Jazz Club - Chicago, IL
JULY 2019
4th - trio with Renee for Dr Richard Longley - Valaparaiso, IN.
25th - Jazz History Presentation - Crown Point Public Library - Crown Point, IN.
26th - with Joe McCabe -
31st - Jazz History Presentation - Crown Point Public Library - Crown Point, IN
AUGUST 2019
2nd - with Henry Johnson
17th - with Frank Russell at Pete Miller's Restaurant - Naperville, IL
31st - with Frank Russell at Pete Miller's Restaurant - Naperville, IL.